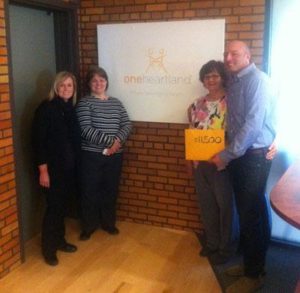 At their meeting in February, The Power of 100 Twin Cities Women Who Care – a Minneapolis based philanthropy group – chose One Heartland as its designated charity for the first quarter of 2014. This means that One Heartland was to receive $100+ checks from each member of the group – a total of at least $10,000 – to be used to strengthen and grow Camp Northstar, a camp for Minnesota youth living in transitional housing.
On April 2nd, four members of the group stopped by One Heartland's office to drop off the checks totaling over $11,500. A true transformative and inspiring gift!
The picture above is of One Heartland's executive director, Patrick Kindler, accepting the checks.
Learn more about The Power of 100 Twin Cities Women Who Care on their website. And learn more about Camp Northstar here.