YOU: Making camp happen for over 25 years!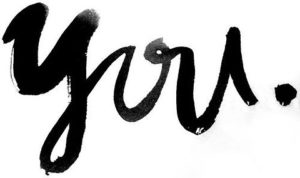 Over the past year, we have been sharing stories from our supporters, participants, donors, and more to celebrate our 25th anniversary as an organization. This is the 25th and final story and it's all about YOU!
_ _ _
Mike and Sandy Luker: Camp Supporters (1998-Present)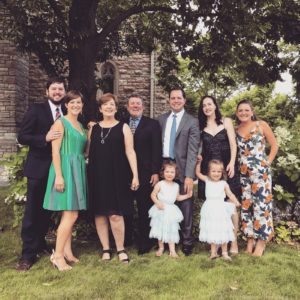 The Luker Family
Mike and Sandy Luker have supported One Heartland for over 20 years. They first learned about camp in the mid-90s when they had a boat they wished to donate and a friend suggested they give it to Camp Heartland. Mike's brother passed away from AIDS in the early 90s, so the cause was already close to their hearts. The couple met with One Heartland Founder Neil Willenson and then Development Director Susan Leckey to hear more about camp and how it was started for kids like Nile Sandeen, who needed a place to belong. Before that meeting was even over, the Lukers knew supporting camp was for them. "It just clicked, it felt right", Sandy recalls.
_ _ _
Pizza Hut: Camp Supporter (2001 – Present)

Slice, the Pizza Hut mascot, celebrates in a parade
Wisconsin Hospitality Group (WHG) and its affiliates own and operate over 100 restaurants across Wisconsin. WHG has grown in sales to become the largest Wisconsin-based food service franchise company in the state. Headquartered in Waukesha, WHG operates 33 Applebee's Grill & Bar restaurants and 72 Pizza Hut Restaurants, all committed to guest satisfaction and community support.
One Heartland has been a beneficiary of WHG's success since 2001, when we received a substantial donation as a result of fundraising efforts from Pizza Hut stores across the state.
_ _ _
David Gale: Camp Hollywood HEART Partner (1995 – Present)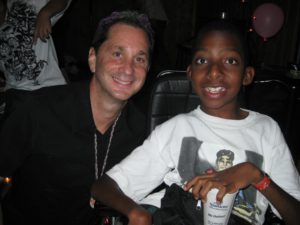 David (left) with then participant Dvonte (right) in 2009
From a young age, David Gale has spent much of his free time doing community service work. In 1994, when the AIDS epidemic had become one of the most serious crisis in the world, David wanted to do something to help those affected by the disease, especially children and youth. Remembering his own life-changing camp experience as a child, David thought that starting a camp for children affected by AIDS might be a way he could make a difference.
_ _ _
Betty Bajwa: Camp Program Partner (2011 – Present)

Betty, right, instructs campers during a "Kids in the Kitchen" session
Betty Bajwa, a registered dietician for more than 40 years, has dedicated her time to One Heartland's Camp 5210 (for youth striving for a healthy lifestyle) since the camp's inception 8 years ago. As a part of the founding team, she has helped develop activities to teach healthy habits and nutrition including the very popular "Kids in the Kitchen" program. This activity gets our young participants into the kitchen to create and taste healthy recipes outside their comfort zone like kale chips, roasted vegetables, salsa, and more. Betty says, "Any way to help them get healthier – I'm strongly committed to doing that".
_ _ _
Natalia and Lidia: Camp Participants (2013-2017)
Lidia (left) and Natalia (right) cooking during their first year at Camp Hollywood HEART in 2013
Natalia and Lidia first attended camp 5 years ago. They went to Camp Hollywood HEART in Malibu, California. Since 1995, One Heartland has offered this camp in partnership with local organization Hollywood HEART. It's a week-long camp for young adults, ages 15-20, who are living with of affected by HIV/AIDS. The program is completely arts-focused with programs in film, writing, dance, and culinary arts. The two sisters chose the culinary arts track and had an unforgettable camp experience. Natalia remembers, "The experience of camp was the only vacation I ever had – it was a gift to us. It's just one week, but it changes your life. The relationships and connections you make stay in your heart forever."
_ _ _
Anna Rysavy: One Heartland Partner (2015 – Present)
Anna has been working with People Serving People since 2015. People Serving People is the region's largest and most comprehensive family-focused homeless shelter, helping homeless and at-risk children and their families manage crisis situations and build a strong foundation for their long-term success. In her current role as Educational Services Coordinator, Anna manages after-school and summertime programming for children and youth who are staying at the People Serving People shelter. People Serving People has referred youth to our Camp Northstar since its inception in 2009. Over the years, Anna has come to understand how meaningful camp can be to her clients.
_ _ _
Bob and Celeste Rekieta: Camp Supporters (2005 – Present)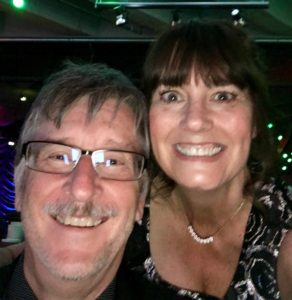 Bob and Celeste first heard about One Heartland during a Cities97 concert at the Metropolitan Club in 2005. Compelled by the heartwarming stories of our campers, they decided to begin supporting camp for kids living with or affected by HIV/AIDS. Since then, they have continued to support us as we have grown and identified other populations that could benefit from the power of camp. As time went on, the Rekietas were able to give more and more. Bob and Celeste continued to give because they knew that without One Heartland, so many kids wouldn't be able to have a camp experience and find a place where they feel accepted and loved.
_ _ _
Janet Osherow: Lifetime Supporter (1993 – Present)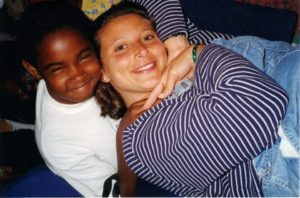 In the early 1990's, Janet Osherow was in college with One Heartland's founder Neil Willenson. Through volunteer work, they met a young boy named Nile. Nile wanted to attend a traditional summer camp but was denied due to his HIV status. Inspired by Nile's unique need, Janet and Neil worked together to put on the first year of Camp Heartland.
_ _ _
Kneeshe Parkinson and Mariah Walker: Camper Parent and Camper (2015-Present)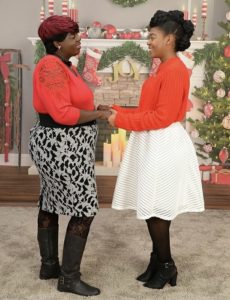 Mariah first attended Camp Heartland 3 years ago. Leading up to camp Mariah felt unsure and nervous. Upon arriving though, it turned out to be a fun experience – "a family, a second home" she remembers. One of Mariah's favorite memories was the outdoor camping trip with the older campers, cooking their dinner over the campfire. When asked how camp has changed her life, Mariah says "I'm more open now". She has learned how to talk about her life and feels free to discuss the effects of HIV/AIDS with her peers. "If I don't go to camp, that's a part of my life missing. My happy place is Camp Heartland".
_ _ _
John Adams: One Heartland Board Member (2007 – 2017)

John (left) with founder Neil Willenson (right) and other supporters.
John Adams first heard about One Heartland over ten years ago when a friend invited him to our Camp Hollywood HEART in California. There he met founder Neil Willenson along with staff and campers. John recalls greeting one special camper:
"I put my hand out to shake hers and she said, 'Oh we don't do that here, we just give hugs.' At that point I knew it was a really special place, not just a regular summer camp."
_ _ _
Patrick Kindler: One Heartland Executive Director (2011-present)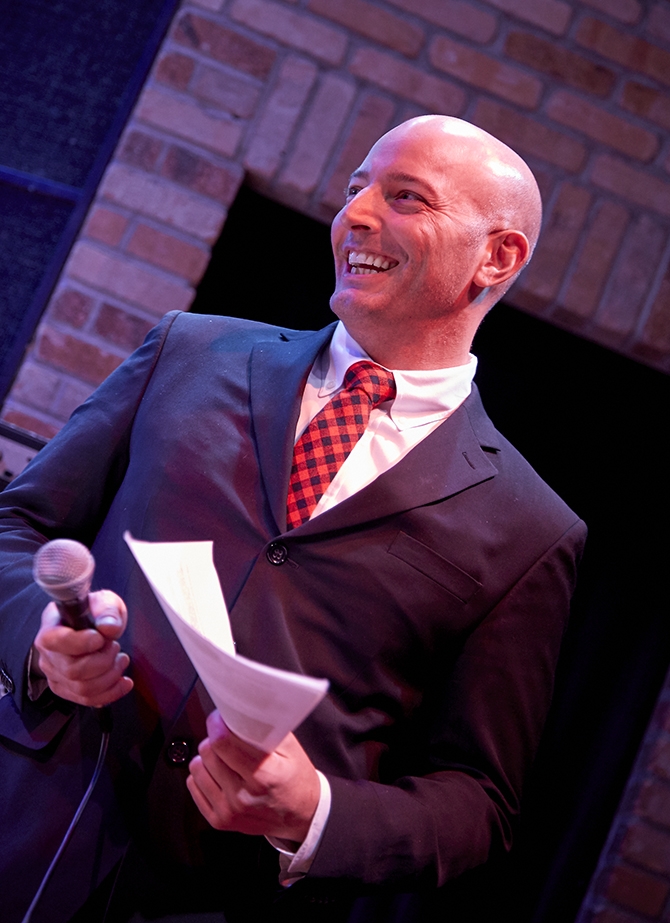 Patrick Kindler has been serving as Executive Director at One Heartland since January 2011. He first joined the organization in June 2006, serving as Camp Director then Program Director during his first 5 years. Patrick is passionate about program development and has helped expand One Heartland's model to serve more kids than ever.
_ _ _
Liam McDougall: Camp Counselor and Leadership Staff (2008-present)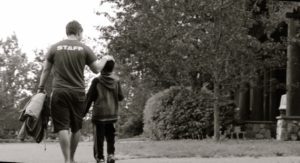 I didn't know anything about Camp or One Heartland until early 2008 when I received a skype call from the then-new Camp Director Jill Rudolph and, as they say, the rest is history! But if you really want to hear the rest of it I applied through an organization called 'Camp America', a middle man of sorts where I filled in my skills and experience, what I was looking for in a camp and then camps in America would search and hire staff to help bring a little European flair to their summer experiences.
I still to this day can't believe my luck when I received that call and was offered the chance to come and volunteer with One Heartland. It's not always easy and the work is long and draining no matter how much fun I had but it continues to fill my memories with happiness and laughter. Proving time and again to be one of the most worthwhile causes I've come across. So much so that I continued to return year after year trying to help in any way I could, to keep having fun and putting smiles on faces and honestly, to see my newly adopted 'family' grow and just be happy!
"One of the greatest pleasures I got from camp was the chance to see these campers grow into young adults, into staff members and into my brothers and sisters who still impress me to this day."
I've just booted up my hard drive to try and help narrow down my 'favourite' memory but it's just not possible, and it's not fair to you reading to take up days and days of your time filling you with them but I can safely give you a little of what to expect.
_ _ _
Susan Leckey: One Heartland Major Gifts Officer/National Giving (1993-present)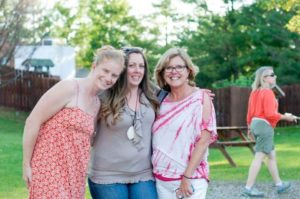 I found out about camp in 1993 after reading an article in the Minneapolis Star Tribune. The article featured a story about the 1st child in Minnesota to go public with her HIV status and mentioned the start of a camp for kids living with HIV/AIDS. At the time, I was working as a respiratory therapist in a hospital and had been working with people living/dying with HIV/AIDS since it became a public "threat". I was immediately taken aback as I had not worked with children living with HIV/AIDS and knew I had to get involved in the camp.
Neil Willenson, a college student, befriended a young boy with HIV after reading an article that he was being discriminated against in WI and was not allowed to go to camp because of his HIV status…he was 5 years old. Neil, along with friends from college, raised enough money to rent a YWCA camp he had gone to as a child. Little did he know that it would start an incredible journey which to this day continues to provide unconditional love and acceptance. That said, it forever changed my life!
"We have never wavered from creating a place where everyone feels accepted and appreciated!"
My favorite camp memory is being a part of the first Journey of Hope tour in 1995 which started in NYC and ended in Orlando, FL…it lasted three weeks. At the end of the tour, the kids were invited to be grand marshals in the Disney parade. It was an exciting way to celebrate all they had accomplished. We spoke at universities, high schools and businesses. Anyone that witnessed these eight children bravely share their stories were astounded. So many people were uneducated about HIV/AIDS at that time and either reached out with compassion or stood back in fear. Thankfully for the most part it was compassion.
_ _ _
Shiann Chambers: Participant and counselor (2012-present)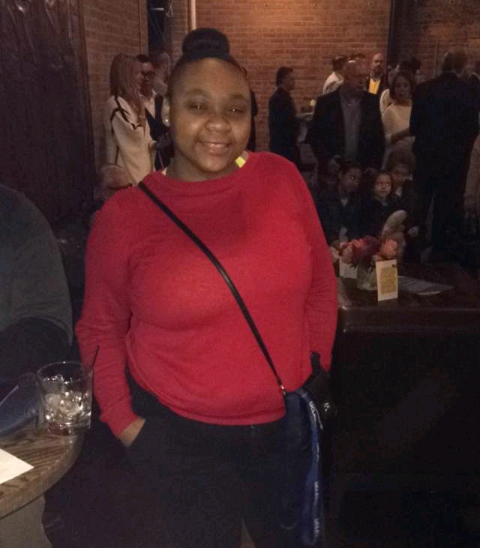 My mom's doctor at the county hospital told her about multiple camps and organizations that served families impacted by HIV/AIDS. After a while we moved into Chicago House and Social Services Agency which helped us get the connection to One Heartland. A year after being told my mom was HIV+, I finally came to camp.
_ _ _
The Brooks Sisters: Kelsi: Counselor and Nurse (2014-Present); Sydni: Counselor (2015-present)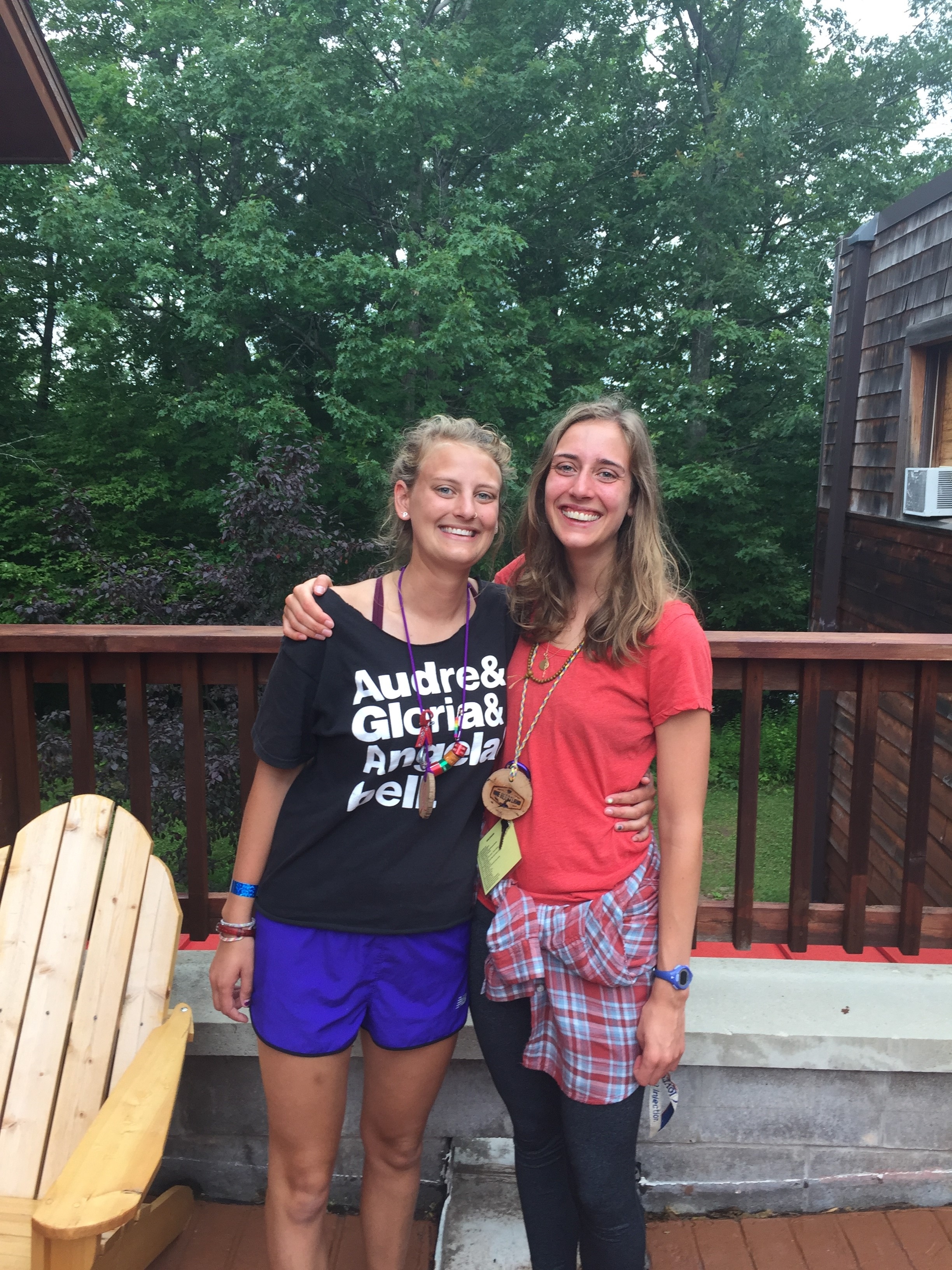 Kelsi: The first time around I heard about camp from someone who I was going to college with and she had brought it up as one of the best experiences of her life. I was looking for something to do over the summer – I didn't think that it would turn into such a huge part of my life story. I officially graduated from nursing school in May (of 2017) and part of the reason that I decided to start nursing school was because of camp. I worked with Susan (a longtime nurse at camp) here and there and was really interested in what she was doing. I did have an idea that I wanted to go to nursing school before coming to camp, it just secured that. Now I'm here and I'm a nurse and I feel like it's a very full-circle turn of events to have something ignite that in you and then come back to the place that ignited it.
_ _ _
Carol Nelson
Club Meds volunteer (2007-present)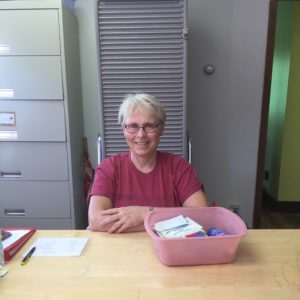 I became involved in camp through my son Nate Henry who was a counselor for several years, starting in 2006. Later my son David was also a camp counselor for several summers.
_ _ _
Dvonte Johnson
Camp participant, Leader-in-Training, and counselor (2002-present)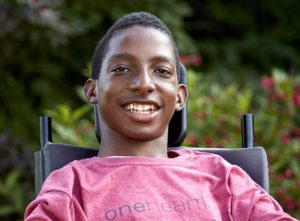 I've been coming to camp since 2002 and I started at the Malibu camp when it was called Camp Pacific Heartland [it's now called Camp Hollywood HEART] and then I came here [to Willow River] as an LIT and I've come here ever since. My favorite camp memory would have to be my first year doing the AP, which is the adventure program here at Camp Heartland. I think that just got me to realize how how much of an impact camp has on both me and the kids who come. I think that was the best week of my camp life.
_ _ _
Joan Carchedi
Fundraising and office volunteer (2010-present)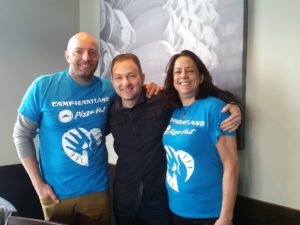 One Heartland Founder Neil Willenson brought some campers to my place of work to share their stories. Having been diagnosed with HIV in 1992, I connected with them right away. There was no permanent camp yet. My employer sponsored and supported Camp Heartland for several years. I became very involved volunteering for fundraising events, such as the Heart and Soul Concerts.
_ _ _
JoJo Turtle-Morales and Aysha Turtle
Camp participant (2013-present) and participant mother (2004-present)

JoJo started going to camp when he was 7 years old. He really wanted to go because his older brother and sister had attended Camp previously. Both of them had come home with stories about how great it is. I (mom) found out about the camp through NM AIDS services years ago when they still had funding to reach out to people with HIV. The agency has had to downscale quite drastically the past few years. Other HIV positive parents may not even know about the Camp opportunity.
_ _ _
Nile Sandeen
Camper and Leader-In-Training, 1993-99, 2001-02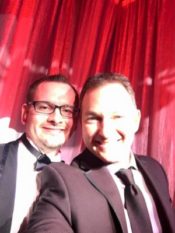 Neil founded the camp after meeting my family and seeing the difficulty it was for HIV+ children to both deal with stigma in their daily life and to have normal childhood experiences like attending summer camp. My brother and I were the first campers to be registered. Neil dubbed me "Mr. Campheartland" (a term that massaged my young ego wonderfully). Thus I became a regular camper throughout my childhood, and also spent many days of my childhood participating in the Journey of Hope program, speaking at businesses, but especially schools and universities all around the country (though mostly in the Midwest). One Heartland was, therefore, a significant part of my childhood, not just in the summer (or the brief winter sessions they used to have), but throughout the year. I also ended up spending many hours at the old Camp office which was located in Milwaukee where I lived.
_ _ _
Neil Willenson
Camp Founder, CEO, and Resident Noodle from 1993-2010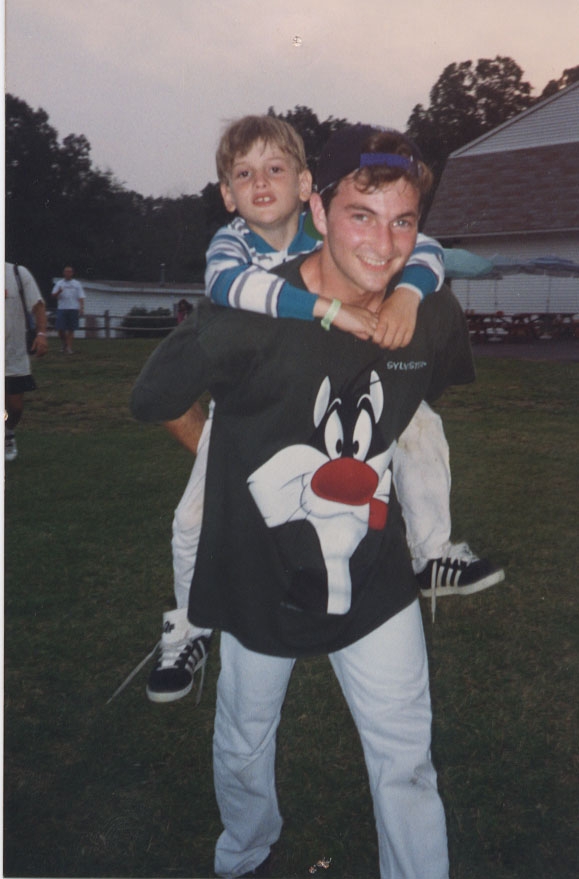 My life changed profoundly in 1991 when I met 5-year-old Nile Sandeen and his big brother, 7-year-old Sean. After witnessing the slings and arrows of HIV discrimination, cruelty and sadness, I was motivated to help create Camp Heartland, a true safe haven for children like Nile and Sean who were affected by HIV and AIDS.