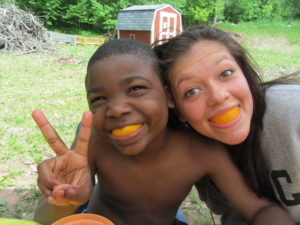 "I can do anything! I'm a warrior!"
Those are the words of 11-year-old One Heartland camper Jonathan, who doubted he could reach the top of the climbing wall at Willow River. That's when his counselor, Yudi, provided the needed encouragement.
"I just kept telling him, 'It's on you to do this, and you can!,'" Yudi says. "And he did!"
That kind of confidence building is what Yudi remembers when she was a young, somewhat reluctant, 13-year-old camper.
"I didn't know much about camp, and I was also taken aback at how people were so open, not only about HIV, but everything about their lives," she says.
Her self confidence and trust in others quickly grew. And so did her connection to One Heartland. Yudi is now a seven-year camp veteran, currently working as a counselor with hopes of one day being on the leadership team. When not at camp, Yudi is in her junior year at California Baptist, on her way to earning an education degree targeted specifically to working with children with special needs. She credits One Heartland for helping her learn about others, herself, and for helping set her life's path.