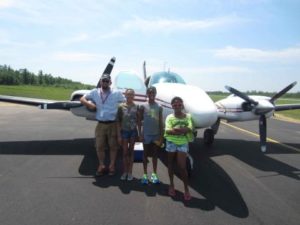 Angel Flight Central is a nonprofit organization whose mission is to "provide free flights for people in need," and since first partnering with One Heartland nearly 20 years ago, Angel Flight's volunteer pilots have transported hundreds of One Heartland campers to its various camps throughout the country.
While most of Angel Flight Central's passengers are people traveling for medical treatment, or to visit a family member who is ill, the organization also graciously transports campers to a variety of specialty camps, including camps for people with burns, cancer and other health or social challenges.
Brenda Champagne, the Operations Director at Angel Flight Central, works directly with the staff at One Heartland to organize the flights for campers. Champagne said that pilots look forward to transporting campers because they find interacting with young people, especially those facing difficulties, to be a very rewarding experience. "The pilots find value in the opportunity to serve their community in a different way."  The pilots also enjoy seeing the difference between the excited and energetic campers on their way to camp, and the worn out and sleepy campers on their way home after a fun-filled week.
Without the collaboration between One Heartland and Angel Flight Central, the opportunity for certain youth to attend summer camps would not be a reality. In a meeting with Patrick Kindler, One Heartland's Executive Director, Champagne vividly remembers him saying "we couldn't do our mission without you completing your mission."  Champagne added, "I think this is why this relationship has developed into a partnership because he gets it, that we have to all work together to give the kids the experience."