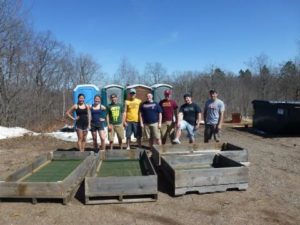 Scott Thomas is a pharmacy student and member of the Phi Delta Chi Pharmacy Fraternity at the University of Minnesota, and he is also a valued One Heartland volunteer.
For the last three years, Thomas, along with 15 of his fellow classmates, has returned to the camp in Willow River to help get the camp facilities ready for summer. He and his crew have sanded and painted the insides of the sleeping quarters, built a staircase that leads up from the main camp area to the upper cabins, made repairs to the seating at the ampitheater, and painted and assembled new bunk beds.
Thomas, whose first experience with One Heartland came back in 2007 through his church, continues to volunteer year and after year for many reasons. First and foremost is the camp's staff, especially Tony, the facility manager, and Jill, the camp director. "They are a pleasure to work with and are both amazing people." He and his entire team, as future health professionals, also support and believe in One Heartland's mission of "improving the lives of children, youth, and families facing significant health challenges…," which makes the entire experience valuable and inspirational from start to finish. "I have had a number of classmates tell me that volunteering at Camp Heartland was THE MOST fun and rewarding service event of our year," said Thomas, whose fraternity prides itself on its community service.
As he graduates from school next spring and moves into his career, Thomas believes that the relationship between One Heartland and the Universtiy of Minnesota's College of Pharmacy will endure, despite his absence, and he has "no doubt" that the school will continue to send volunteers to help at camp.
Finally, just as our campers and program staff understand, part of the value of volunteering for One Heartland is the shared experience among friends and the connections that arise from working together toward a common goal. And Thomas agrees, saying that "…volunteering for such a wonderful organization and sharing that experience with friends" is one of the things he enjoys most about volunteering for One Heartland.