Camper Parent and Camper (2015-Present)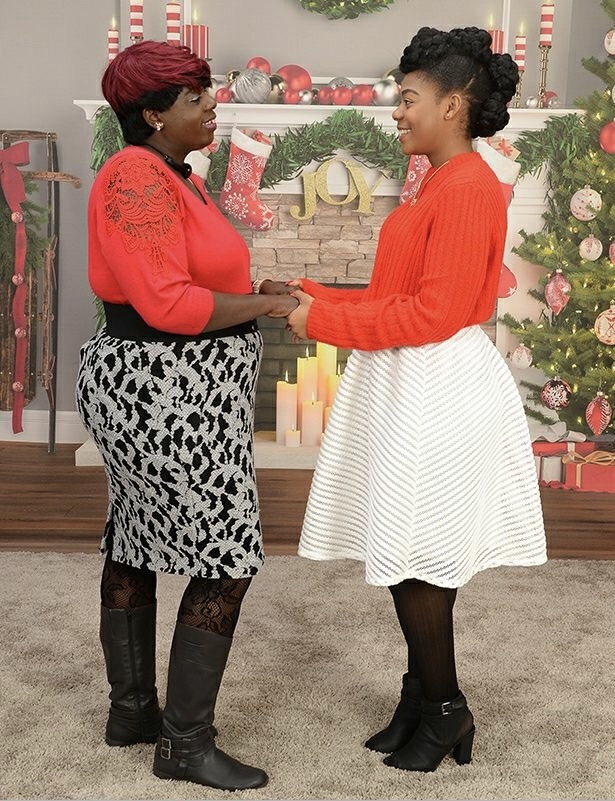 Kneeshe and Mariah, Christmas 2017
Mariah first attended Camp Heartland 3 years ago. Leading up to camp Mariah felt unsure and nervous. Upon arriving though, it turned out to be a fun experience – "a family, a second home" she remembers. One of Mariah's favorite memories was the outdoor camping trip with the older campers, cooking their dinner over the campfire. When asked how camp has changed her life, Mariah says "I'm more open now". She has learned how to talk about her life and feels free to discuss the effects of HIV/AIDS with her peers. "If I don't go to camp, that's a part of my life missing. My happy place is Camp Heartland".
As a parent, Kneeshe is just as pleased with Camp Heartland. She believes that camp provides hope to young people and reduces the stigma surrounding HIV/AIDS, allowing them to grow and learn with others. "Camp Heartland has changed our lives forever". Kneeshe describes the registration process and other logistics leading up to camp as helpful, flexible, and confidential. "We didn't feel like we were alone". Mariah remembers how One Heartland provided gift cards to help them purchase camp necessities like a flashlight and bug spray.
Kneeshe and Mariah's story proves that Camp Heartland – our flagship program – still plays a critical role. Although the AIDS crisis is not what it used to be and stigma has lessened somewhat, Mariah still experienced bullying when she was younger. Camp Heartland provides a place where she can escape and be part of a community that accepts her just as she is. She is now training in our leadership program and hopes to one day become a counselor so she can help other kids like her.
Kneeshe has one final message for those hearing her story: "If you're thinking about donating to a cause, please donate to One Heartland to continue to make positive change in children's lives and their families".