Kelsi: Counselor and Nurse (2014-Present); Sydni: Counselor (2015-present)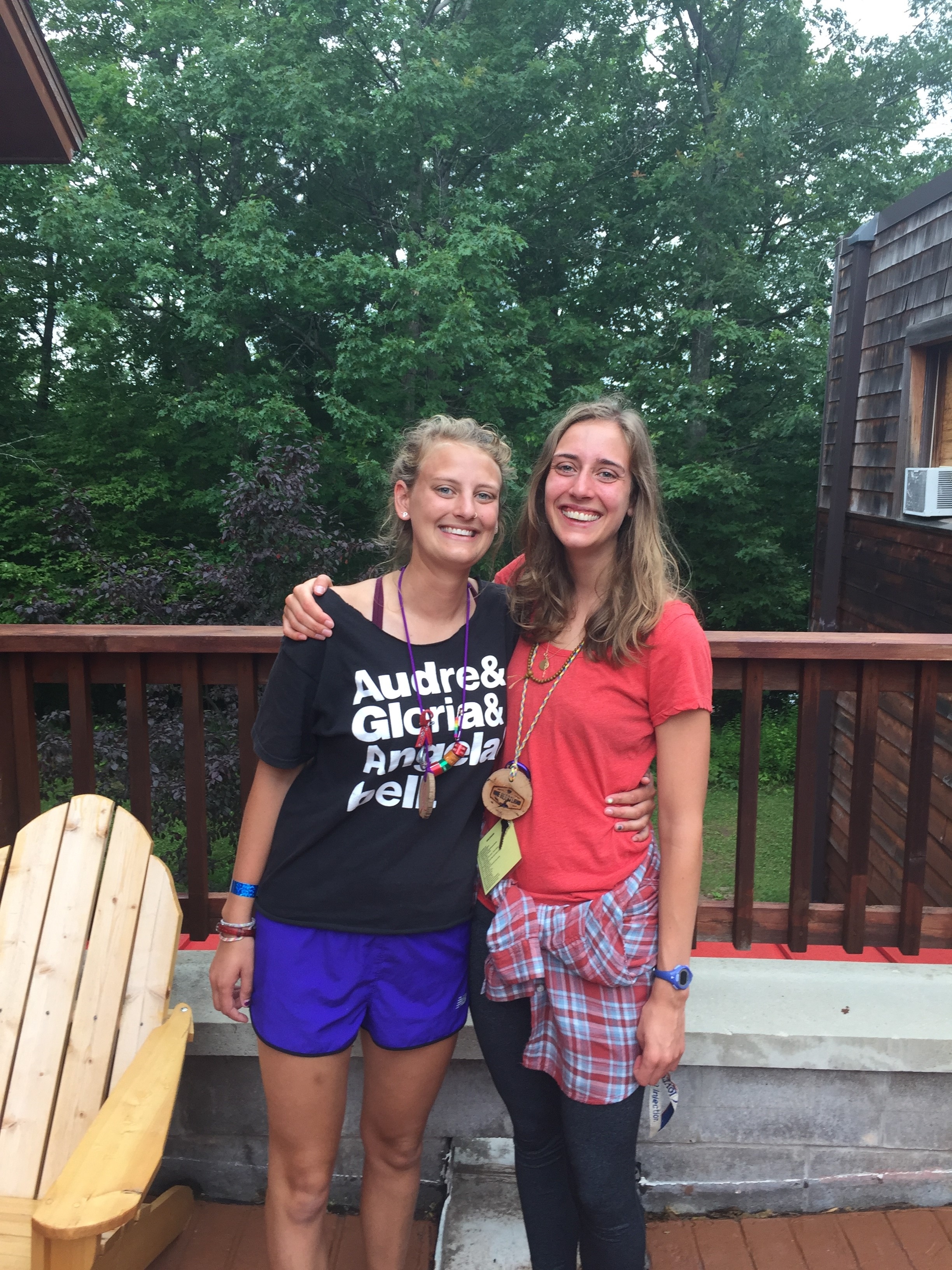 Kelsi: The first time around I heard about camp from someone who I was going to college with and she had brought it up as one of the best experiences of her life. I was looking for something to do over the summer – I didn't think that it would turn into such a huge part of my life story. I officially graduated from nursing school in May (of 2017) and part of the reason that I decided to start nursing school was because of camp. I worked with Susan (a longtime nurse at camp) here and there and was really interested in what she was doing. I did have an idea that I wanted to go to nursing school before coming to camp, it just secured that. Now I'm here and I'm a nurse and I feel like it's a very full-circle turn of events to have something ignite that in you and then come back to the place that ignited it.
I knew Sydni was really interested in working with kids. I had seen her work with kids and she really impacted them. She was their favorite person and I thought that it would be the best thing for her and the best thing for the kids that she be here. I also knew that I wasn't going to be able to come back in a few summers and so I wanted to make sure that the legacy continued onward. A Brooks had to be here!
I would say that I left camp a better person. I had experienced a lot of growth from camp and so for me that was an important impact that camp had made on me and I knew that I needed to come back.
Sydni: It feels like so long ago – it's weird thinking about before I even came to camp. I think it was hearing Kelsi's passion for camp and hearing that it's a place of so much genuine love and acceptance. That's exactly what I was looking for. I wanted to work with kids and youth and I love camp's mission and what we seek to do and the kids we serve. It's just everything that I wanted to do in my whole life so it was perfect that Kelsi brought me here. I always seem to be following her places.
By the end of camp it breaks down your walls and the walls that life builds up in you. You feel like you constantly have to build tough skin and the campers as well. Camp is like one really long massage. It drops your walls. You can just be a kid, have fun, let loose, and forget about worries.
Camp is like one really long massage. It drops your walls. 
Camp has equipped me with so much experience working with kids and has solidified that I definitely want to work with kids. It has also shaped how I want to work with kids. I always thought I wanted to be a teacher, and then after working in a school and then working here I realized that those two settings are so extremely different. Now I'm leaning more towards a social work/counseling side. Camp has definitely shaped that.
Kelsi: It was incredible to work with the group of LITs (Leaders-in-Training) that I had in 2014. They built this really strong friendship and still to this day are best friends and are continuously talking. I just feel like I entered a really incredible group of young individuals at the point in their life when they were starting to see their accomplishments come true and were starting to see acceptances from colleges. It was a really big, celebratory journey to see them in the beginning but then stay in contact with them after camp and see how their journey has unraveled. There's one LIT whostarted making this puppet at the airport just randomly trying to pass time, and we were going to be there for a while. So he brings this hot glue gun to the airport, plugs it in, and is putting together this puppet, and the puppet is a nurse. Nurse Nancy was the name on the package. And I could not believe that he was doing this at the airport! He was like, "whatever, this is what I want to do." And then in the end I ended up in possession of the puppet and I still have it and I pull it out for like big occasions. I brought it to my nursing school graduation and things like that. So that right there, it's an item, but it meant the world to me.
Sydni: I was with the Adventure Program kids for the past two years, and those campers are now my co-counselors, which has been such a moving experience. Jamar, who's one of my co-counselors this week, was in one of my first cabins. Seeing how much he's grown and keeping in touch with him throughout the past couple of years and seeing what his life is like at home, and then for him to come to camp and have this sanctuary, I learn from him so much more every day. He has had a huge impact on me as a counselor and camp, and what camp means to me. And the other LITs right now are also my previous campers, and it's so cool to see them all mature and play with kids and have fun and really show the younger campers what camp is for and what camp has meant for them and what camp can be for them. Them creating that experience is really magical. It's really magical to see.
Kelsi: That's the coolest transition, to go from being a camper and then suddenly realizing you have the capability to create that experience for others.