One Heartland Major Gifts Officer/National Giving (1993-present)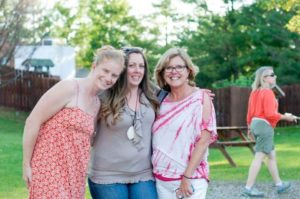 I found out about camp in 1993 after reading an article in the Minneapolis Star Tribune. The article featured a story about the 1st child in Minnesota to go public with her HIV status and mentioned the start of a camp for kids living with HIV/AIDS. At the time, I was working as a respiratory therapist in a hospital and had been working with people living/dying with HIV/AIDS since it became a public "threat". I was immediately taken aback as I had not worked with children living with HIV/AIDS and knew I had to get involved in the camp.
Neil Willenson, a college student, befriended a young boy with HIV after reading an article that he was being discriminated against in WI and was not allowed to go to camp because of his HIV status…he was 5 years old. Neil, along with friends from college, raised enough money to rent a YWCA camp he had gone to as a child. Little did he know that it would start an incredible journey which to this day continues to provide unconditional love and acceptance.  That said, it forever changed my life!
"We have never wavered from creating a place where everyone feels accepted and appreciated!"
My favorite camp memory is being a part of the first Journey of Hope tour in 1995 which started in NYC and ended in Orlando, FL…it lasted three weeks. At the end of the tour, the kids were invited to be  grand marshals in the Disney parade. It was an exciting way to celebrate all they had accomplished. We spoke at universities, high schools and businesses. Anyone that witnessed these eight children bravely share their stories were astounded. So many people were uneducated about HIV/AIDS at that time and either reached out with compassion or stood back in fear. Thankfully for the most part it was compassion.
These kids were so brave knowing that many on the road did not understand all the facts about the disease; some audience members even asked if you could get it by holding hands. This journey was a true testament of the human spirit as these children, battling their own personal circumstances, rose above and brought thousands of people together on the road with their stories. Tears, laughter and hugs seemed to be a common denominator, but the tears were those of gratitude and understanding that they too had a mission…to continue to educate so others would not have to go through the shame and secrecy of a disease that had so much stigma attached to it.
I am so proud of the work that that has come out of Camp Heartland / One Heartland over the past 25 years. We went from serving HIV/AIDS exclusively, to including many other populations that are socially isolated and marginalized. We have never wavered from creating a place where everyone feels accepted and appreciated! And what has been music to my ears since inception is when I hear from so many of our campers: "this was the best week of my life and I can't wait to come back!" I am truly privileged to have been a part of something so incredibly life-changing for thousands!